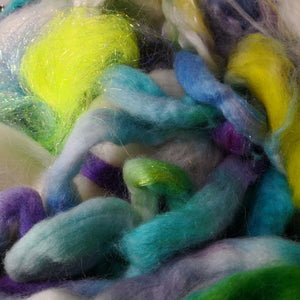 Fun assortment of color full and easy to spin fibers. 
Dit heerlijke fiber pack bevat een doorsnede van ons assortiment. 
Het bevat potloodlont, stukken lontwol, en ieniemienie art batts. 
Fiber Pack Natural bevat 50 gram gekleurde wolletjes, aangevuld met 100 gram ongeverfde lontwol in de kleuren wit, grijs of zwart
Fiber Pack COLOUR bevat 75 gram gekleurde wolletjes zoals lontwol en art batt.
Voor alle spinners een heerlijke verrassing! En altijd anders.