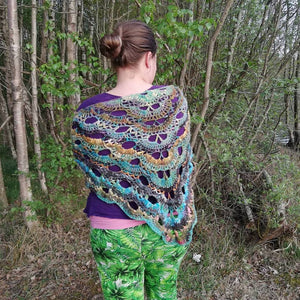 Zelf je eigen Fairy HUG maken. Deze prachtige doeken worden gemaakt vanaf de wol. Spin de wol volgens het Garen Spin Recept, was en droog het garen en haak het vervolgens.  
Alle garens en wol zijn 100 % mulesingfree zoals al onze wol. De garens worden door jou zelf  gesponnen met behulp van Garen Spin Recepten (eBooks met video's). We verven alleen duurzaam en zoveel mogelijk in onze solar oven. Gebruik van toxische verfstoffen gebeurt bij ons niet. Al ons water wordt geupccled. We gebruiken groene stroom of de zon. Art Batts bevatten ook Angelina vezel (deze zijn nog niet biologisch afbreekbaar) voor versterking van het garen en voor de glittering. 
Maten
100 (small, voor om de nek),
250 (medium voor om de nek of als rokje of om de rug) of
450 gram (large, heerlijk groot)
Inhoud voor Spinners
2 recepten en 1 patroon, Art Batts en Glittercone
PLUS Gratis het eBookje 'Help! Hoe bepaal ik de dikte van mijn garen?' en 'Spinnen van een Single' 
Niveau: Beginnend spinner
dit garen kan gemaakt worden met een tol
Altijd nodig
Tijd voor jezelf. #slowfashion.