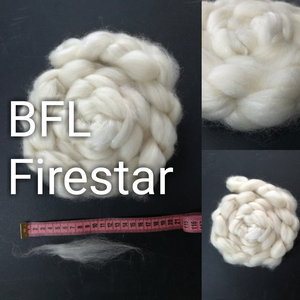 Undyed Combed Top
Super soft, ready to spin silky yarns
Blue Faced Leicester wool blend with Firestar (a super shiny sparkly strong nylon)
This blend is super super soft. It felts easily with dyeing. So please be carefull not to touch it during the dyeing process.
Nederlandse beschrijving:
Deze blend is super super zacht. De Kunstvezel gemaakt van nylon maakt de wol extra sterk. Maar dat niet alleen, de kunstvezel is ook nog eens glitterend en sprankelend. Kan gebruikt worden voor kleding op de huid. Kan gebruikt worden voor sokkenwol. 
Vervilt makkelijk. Zeer geschikt als spinwol en als viltwol. Verven is lastig.
Europese wol plus Firetsar (nylon)
Super zacht (max 21 micr)
Mulesing Free
Europese wol